Via Meadia
Walter Russell Mead & Staff
Knock-on
America's petrochemical industry is booming, thanks to fracking.
"Peak" Oil?
A new North Sea oil field just came online.
Nuclear North Korea
Has Trump pushed Moon toward a tougher stance on Pyongyang?
Unintended Consequences
A minimum wage experiment backfired in Seattle. It could be even more devastating to regions less wealthy than the Emerald City.
Blue Model Blues
A fiscal crisis is brewing in the Virgin Islands.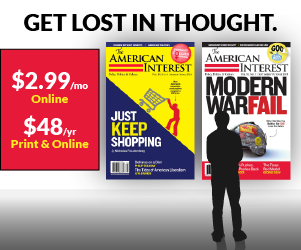 Protecting Investments
As insurgents in Pakistan threaten Chinese projects, both countries may find themselves committing more troops and treasure than they first expected.
The End of EU-phoria?
The colorful Italian leader's comeback complicates the EU's path forward.
Inside Putin's Echo Chamber
Lies and Truth
What a silly set of lies about a doctored YouTube clip in the Oliver Stone documentary tells us about how Putin gets his information.
Image Placeholder
Operation Moses
Image Placeholder
Authoritarianism
Image Placeholder
Inequality
Image Placeholder
The Putin Interviews
Image Placeholder
A Tragedy in Four Acts
Image Placeholder
A Mirror up to Nature
July/August 2017
May/June 2017
March/April 2017
The AI Podcast
With Richard Aldous