Via Meadia
Walter Russell Mead & Staff
Red Line Redux
Maybe, just maybe, enforcing specific norms against wanton barbarity with threats and demonstrations of violence can work well.
Big Brother Is Watching
China is developing new ways to expand its authoritarian reach, with the pervasive use of facial-recognition technology to track and change its citizens' behavior.
U.S.-Indian Relations
The U.S.-India summit presented a series of red flags to Pakistan and China.
Knock-on
America's petrochemical industry is booming, thanks to fracking.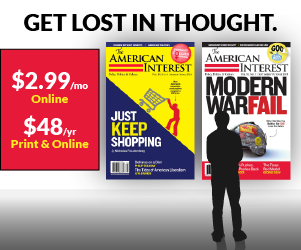 "Peak" Oil?
A new North Sea oil field just came online.
Nuclear North Korea
Has Trump pushed Moon toward a tougher stance on Pyongyang?
All That Africa Could Be
Net Assessment
A U.S. recommitment to Africa would profit all involved, so long as policymakers settle in for the long haul and take their cues from Alexander Hamilton.
Image Placeholder
Lies and Truth
Image Placeholder
Operation Moses
Image Placeholder
Authoritarianism
Image Placeholder
Inequality
Image Placeholder
The Putin Interviews
Image Placeholder
A Tragedy in Four Acts
July/August 2017
May/June 2017
March/April 2017
The AI Podcast
With Richard Aldous