When students know their debts can be forgiven in whole or in part no matter how much they owe, they will be encouraged to borrow as much as they can to attend the most expensive schools. This is the perverse incentive at the heart of debt forgiveness programs, and the government may finally be waking up to it. As the WSJ says, many in government are troubled by the rapid growth of federal debt forgiveness programs:
Enrollment in the plans—which allow students to rack up big debts and then forgive the unpaid balance after a set period—has surged nearly 40% in just six months, to include at least 1.3 million Americans owing around $72 billion, U.S. Education Department records show. […]
The fastest-growing plan, revamped by President 
Barack Obama
 in 2011, requires borrowers to pay 10% a year of their discretionary income—annual income above 150% of the poverty level—in monthly installments. Under the plan, the unpaid balances for those working in the public sector or for nonprofits are then forgiven after 10 years.Private-sector workers also see their debts wiped clean—after a longer period of 20 years—reflecting a government aim to have no one, wherever they work, paying down student debt their entire working life.An independent study estimates the future cost of the 2011 program, known as Pay As You Earn, could hit $14 billion a year.
There is currently no limit on debt eligible for forgiveness, but the Obama Administration recommended a cap of $57,500 per student in last month's budget. The Administration has also suggested other changes, such as extending the loan forgiveness period to 25 years for the most heavily indebted borrowers, but these reforms aren't likely to be put into place anytime soon.
Supporters of the programs say they work as intended by permitting students who earned expensive degrees in fields like law to pursue low-paying careers in public service—as public defenders, for example. Many students enroll in law school expecting to have most or all of their tuition forgiven.It's no surprise that a recent Brookings
report
, cited by the
WSJ
, found that students who attend the priciest schools receive a disproportionate amount from loan forgiveness programs (see chart below).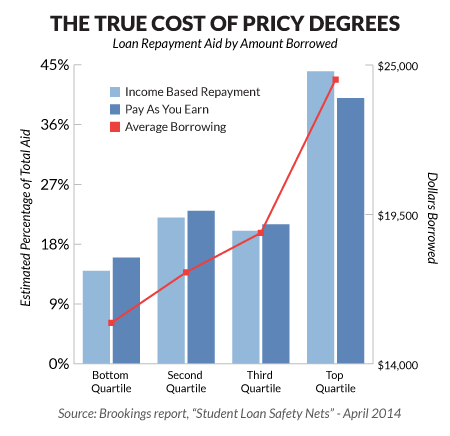 Of course, if students have less incentive to save on their tuition bills, then universities also have less incentive to make those bills smaller in the first place.This is the wrong way to help students get out from under their debt burdens. We would all be better off if more market pressure were brought to bear on universities to lower their costs. Cutting back on loan forgiveness programs, combined with other reforms to make higher education more affordable, would be a good start.