As the flimsy accords of last week continue to unravel in Ukraine, Ambrose Evans-Pritchard's write-up of a recent report by the OpenEurope think tank is worth a look. Here's the key graph from the study: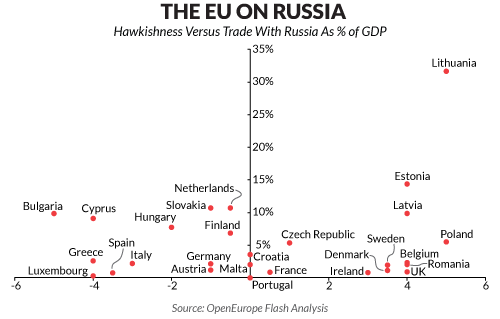 Though OpenEurope's "hawkishness" index is somewhat opaque, it passes a basic smell test. The report notes that the degree of trade ties to Russia is less likely to predict a country's hawkishness than most commentators assume, and that recent memories of Russian aggression play a much stronger role. That seems true enough at first glance. But if you remove the countries who feel most directly threatened and are therefore most emotionally invested—the Baltics, and maybe even Poland—at least a weak correlation between trade ties and appetite for sanctions begins to emerge.
Overall, though, the report is right to emphasize the role of history and culture over crass material concerns. Foreign policy decisions are rarely made purely rationally, and what rationality is present is often bounded by cultural ties. On that note, Evans-Pritchard's take on Bulgaria, the most dovish country in the EU, is instructive:
Bulgaria is both Slav and Orthodox. Some say Sofia's organised crime networks – drawn heavily from the old Communist secret services – work in close concert with Russian counterparts.

I don't wish to pick on Bulgaria, a lovely country in many ways, but the European Commission says Bulgaria's organised crime activities are "unique" within the EU."Still today they exercise a considerable influence over economic activities in the country. It gives these groups a platform from which to influence the political process and state institutions," it said in a report two years ago."It is accepted that over 150 murders over the last decade can be defined as contract killings," it said. Few cases ever come to court, and even fewer reach conviction. This is what is going in an EU member state, yet the same country has a veto on EU sanctions policy. I say no more, except to commend the bravery of Bulgarian journalists who try to write about corruption, at great risk to themselves.
This is the ugly reality than most reformist optimists need to take into account when thinking about the likelihood of "fixing" Ukraine's crippling corruption. Probably the best that the EU could hope for Ukraine, if it undertook a decade or more of assiduous reforms, is a state on par with today's Bulgaria. That would undoubtedly be a good deal better than what Ukraine is now, but people should be under no illusion that getting that far will be easy—or even likely.