The EU, led by Germany, has so far been able to keep a reasonably unified front together for threatening so-called third level economic sanctions against Russia (which would include additional energy sanctions), but there have been reports of a block of malcontent countries chafing behind the scenes, led by Italy.
What's unifies these countries? This map should help clarify things: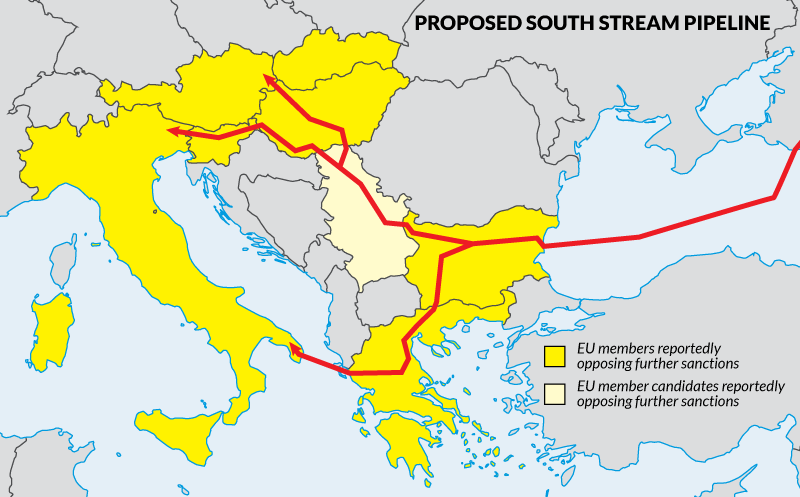 One of the EU's biggest plays so far has been declaring a moratorium on building the South Stream pipeline. According to the AP, however,
the ranks are starting to break
:
In Slovenia Tuesday for discussions that included South Stream, Russian Foreign Minister Sergey Lavrov challenged the EU Commission's moratorium as "not in accordance with norms of international law."

Slovene Foreign Minister Karl Erjavec cited North Stream, another Russian pipeline to Europe partially owned and supplied by Russia, as a precedent for South Stream.

European reaction has been generally muted. Many countries in central and eastern Europe already get much of their gas from Russia, making them ill-placed to criticize South Stream. Those further west, like France, have seen their lucrative business relations with Russia untouched by sanctions against Moscow.

And while individual countries are taking steps to diversify their sources, officials seem to recognize there are few near-term options to Russian gas.

Renewable energy projects are not close to meeting demand. Environmental concerns are fomenting widespread opposition to fracking — the disputed extraction of oil and gas from shale formations that has resulted in a U.S. gas boom. And it will be at least a decade before the U.S. can make sea-borne shipments of liquefied natural gas, due to technical and bureaucratic hurdles.
These are the realities Europe faces as it contemplates further action against Russia. And Putin knows it.