A decade ago, the outlook on America's energy security was anything but rosy. The U.S. produced less and less of the energy it consumed, until the ratio of production to consumption hit an all-time low in 2005. Since then, however, our energy prospects have bounced back, with domestic production satisfying 84 percent of our energy needs last year, the EIA reports.
Take a look at this remarkable turnaround in the chart below, which follows the ratio of domestic production to total consumption over the past 64 years: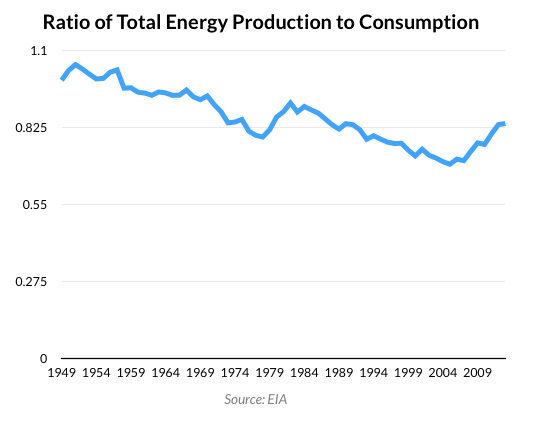 There are two trends at play here. First and foremost, the dual technologies of hydraulic fracturing and horizontal well drilling have unlocked a new bounty of oil and natural gas trapped in previously inaccessible shale rock, leading to a veritable hydrocarbon boom. But there's another important development worth noting, namely the tapering off of our total energy consumption. Much of that can be laid at the feet of energy efficiency gains, which can be expected to continue as the U.S. moves away from a more energy-intensive manufacturing economy to a leaner information economy.Those two trends—affecting both U.S. supply and demand of energy—will continue to alter our dependence on foreign sources of energy. True
energy independence
 is a
myth
, but a decreased reliance on far-off suppliers is good for both our economy and our foreign policy.