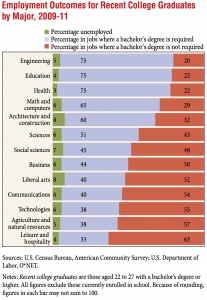 It's a bad time to be young. According to a new report by the Federal Reserve Bank of New York (h/t Andy Quinn), around 44 percent of recent college graduates (ages 22–27) were underemployed in 2012—meaning they had jobs that didn't require a college degree. The most interesting finding in the report is that this outrageously high number isn't just a temporary aberration caused by the most recent recession, though that likely make it worse. Some of the trends here began as early as 2001, if not earlier. The authors note that historically there were well-paying jobs that didn't require college degrees, but those kinds of jobs have been disappearing:
The share of underemployed college graduates in good non-college jobs was lower for recent college graduates than for college graduates as a whole, and it fell more steeply over time. About half of underemployed recent college graduates were in good non-college jobs in the 1990s, and that share fell to about 36 percent by 2009

The share of recent college graduates in low-wage jobs rose from about 15 percent in 1990 to more than 20 percent by 2009, while the corresponding share of all college graduates increased only modestly, from 13 percent to 15 percent. Together, these trends suggest that the quality of jobs for underemployed recent college graduates has been on the decline, particularly since 2000.
There are plenty of complex causes for these trends, but the inability of politicians, many of whom represent the Boomer generation, to develop any pro-millennial agenda except "let them smoke pot" is a scandalous failure. That being said, the graph above shows that underemployment is a worse problem for some majors than others. We fully support the liberal arts, but now more than ever it's important for students to diversify their skills, taking classes outside their core majors and making themselves as marketable as possible. That's not anywhere near a full solution, of course, and it doesn't absolve the Boomers of their self-serving politics. But millennials left out in the cold may have no other choice but to start in small ways, like signing up for a coding class.