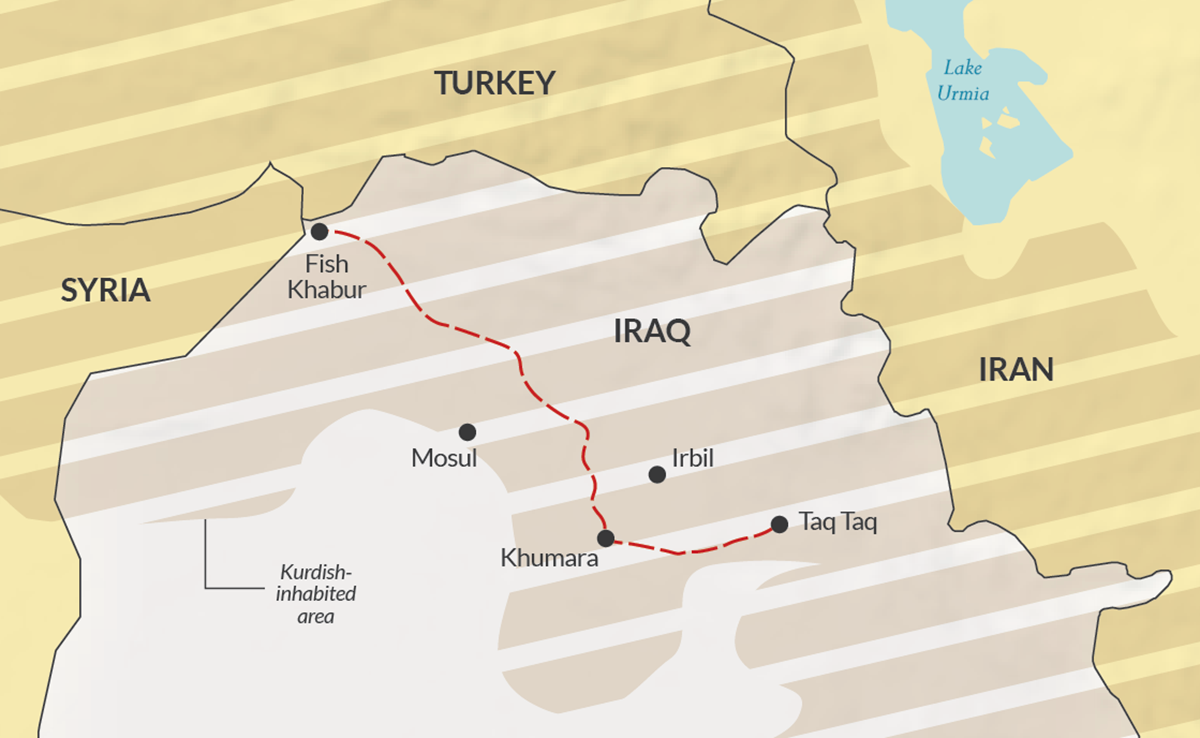 A few weeks ago, Iraqi Kurdistan began
piping oil
north to the border with Turkey, connecting Iraqi oil fields with Turkey's fairly extensive pipeline network for the first time. Irbil, seat of the region's semi-autonomous government, was pleased, as was Ankara, as both stand to benefit from the new connection. The event was billed as merely a test flow to determine the condition of the pipeline, but it didn't go over well in Baghdad, where officials are worried that the region's oil exports to Turkey will make it more economically and politically independent from the central Iraqi government. Irbil has done little to quell those fears, announcing that it will sell its first blocks of oil through its own regional oil marketing association, rather than the Iraqi state equivalent.As the 
WSJ 
reports
, Baghdad is very concerned by the way events are unfolding:
Iraq's oil ministry responded with "deep regret" and bewilderment, saying Friday that Kurdistan's plans are a "flagrant violation of the provisions of the Iraqi constitution."

The ministry also criticized Turkey's government for allowing Kurdish oil to pass through the Iraqi-Turkish pipeline without Baghdad's consent. […]Turkey has repeatedly stressed that it won't participate in a transaction that undermines Iraq's constitution and the country's unity, a key concern for the U.S.Turkey's Energy Minister Taner Yildiz told reporters in Ankara on Jan. 2 that Turkey would wait for Baghdad's approval before Kurdistan can sell its oil to international markets. The oil passing through the pipeline is currently stored in the Turkish port of Ceyhan on the eastern Mediterranean."Turkey hasn't changed its stance, any oil the Kurds are sending to Ceyhan via the existing pipeline is being stored and there haven't been any shipments to international markets yet. Neither Kurds nor Turks are currently at a definitive moment when we would say: 'Baghdad is opposed to this, but let's go ahead and do it,' " said a Turkish official, who declined to be identified because the person wasn't authorized to comment publicly on the matter.
Turkish leaders appear to be saying the right soothing things, but in reality this looks more and more like a game of chicken. With a weakened Baghdad struggling to regain control over Fallujah and Ramadi, the Kurds are keen on pressing their advantage. If the Shiite government in Baghdad manages to convince Sunni tribal leaders to expel al-Qaeda from the besieged towns, Iraq as a unified state has a future. If not, look for the Kurds to press their advantage even further in the coming weeks and months.