The return on investment for a college degree is getting worse even as the number of Americans struggling to pay off their loans is rising to crisis levels. Earlier this week, Wonkblog ran a graph by Peter Thiel plotting the rise of student loan debt against the median income for B.A. holders. The chart speaks for itself: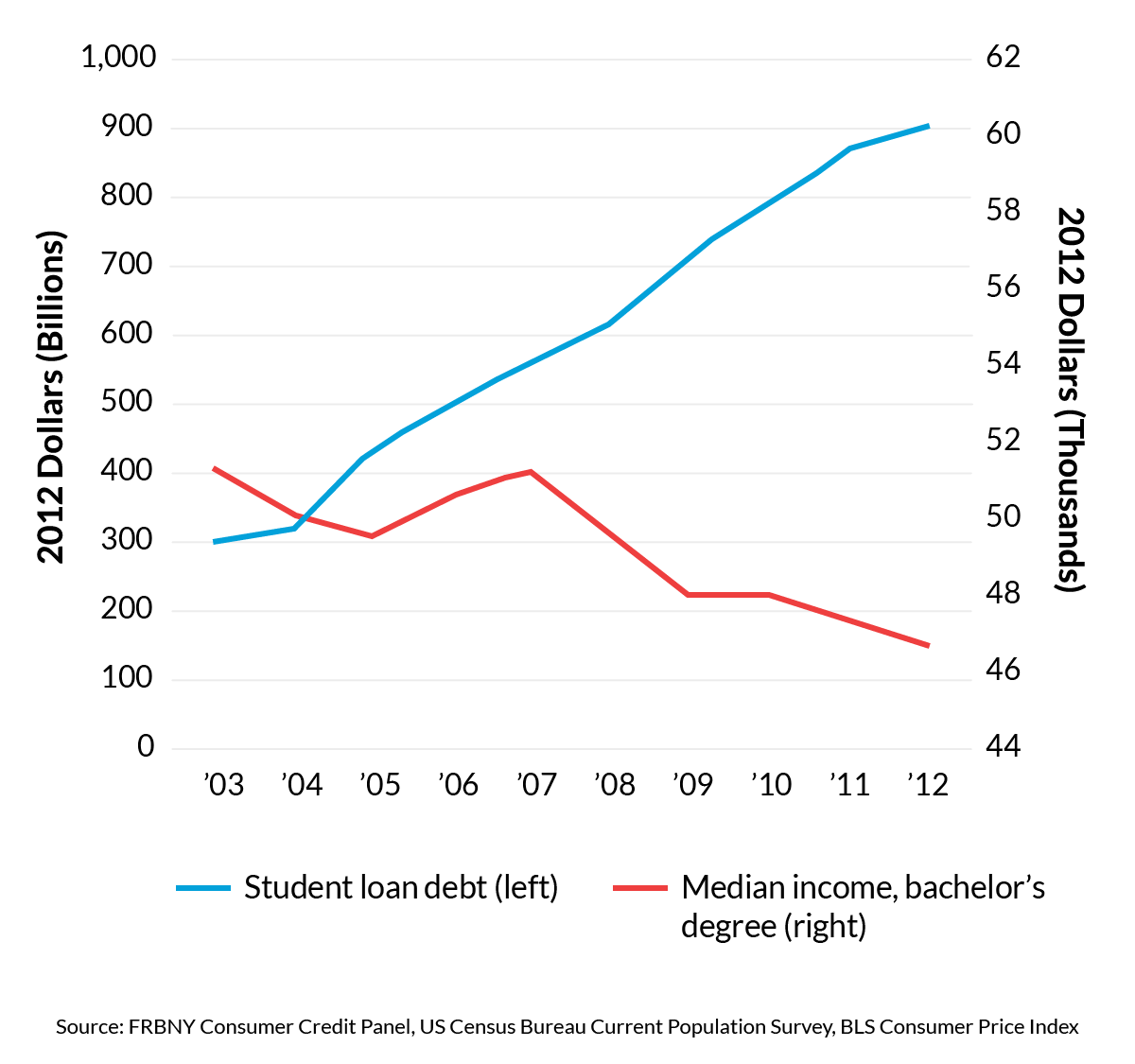 With that as a backdrop, consider the recent 
New York Times
story
 on the Educational Credit Management Corporation (ECMC), a private nonprofit that the government has been using to fight borrowers looking to discharge some of their loans in bankruptcy. The organization's tactics are so bare-knuckled that it has been repeatedly censured by the courts for abusing the bankruptcy process. To cite just one example:
The case that caused the bankruptcy judges to accuse the agency of abuse concerned Barbara Hann, who took a particularly drawn-out beating from Educational Credit. In 2004, when Ms. Hann filed for bankruptcy, Educational Credit claimed that she owed over $50,000 in outstanding debt. In a hearing that Educational Credit did not attend, Ms. Hann provided ample evidence that she had, in fact, already repaid her student loans in full.

But when her bankruptcy case ended in 2010, Educational Credit began hounding Ms. Hann anew, and, on behalf of the government, garnished her Social Security — all to repay a loan that she had long since paid off.

When Ms. Hann took the issue to a New Hampshire court, the judge sanctioned Educational Credit, citing the lawyers' "violation of the Bankruptcy Code's discharge injunction."
Many have argued that these kinds of tactics are ultimately necessary to keep the student loan program functioning. After all, making it easier for students to discharge loans in bankruptcy makes these loans riskier for lenders, and could lead to a system where it is more difficult for many students to get loans.
But this, ultimately, gets at the crux of the problem. The growth in readily available federal loans has played a key role in driving college tuition upwards, to the point where few families can afford to send their children to school without borrowing. The whole student loan program needs a serious rethink—government programs should be focusing on pushing tuition down, not pushing lending up. When the government needs to hire loan sharks to convince struggling college grads to pay up—for something that's increasingly offering poorer and poorer returns on both time and money invested—something has gone terribly wrong.