Over at the Daily Beast the erudite and incisive Les Gelb wonders if the US is being too soft on China. Beijing's ADIZ announcement, he writes, was just its latest antagonistic action. Notably, on a recent visit to the country, Vice President Biden carefully avoided stepping on anyone's toes. Some people take this to be an American acquiescence to China's belligerence and, less visibly, another sign of declining American influence abroad. Check it out:
The new ADIZ is only the latest in a long line of lamentations about Chinese treatment of American interests. There's the cyberwarfare against U.S. defense industries. There's Chinese flagrant violation of intellectual property rights. There's the near total resistance to opening up Chinese internal markets to fair competition and to letting outsiders own a majority share of businesses. There's strong resistance to accepting the WTO trade rules on the grounds that though China is an economic juggernaut, it's really a "developing country" and thus not subject to the same rules as America, Japan, Germany, et al. There's the constant intimidation of American journalists and news organizations. Biden did note the latter publicly as a matter of American values. Did Beijing even notice?
So is it time to be more assertive in balancing China in East and Southeast Asia? What leverage does the US have over Beijing? In the Pacific, the US will have superior military forces for some time to come. But China is building a formidable navy and an astonishing rate. Submarines to counter US surface fleets, coast guard cutters to enforce territorial claims, long range missile defenses, new jets and battleships, drones—the list goes on.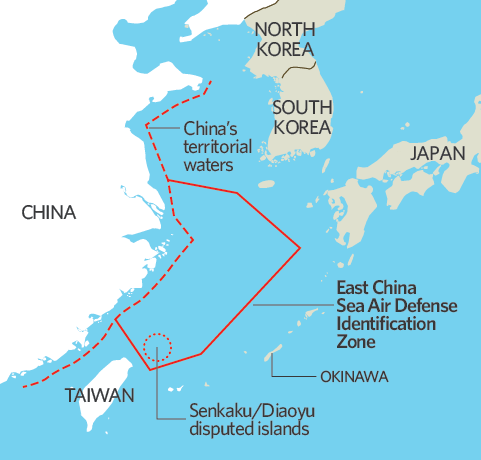 Before we can become more assertive in Asia—which as Gelb and others (including us 
at the American Interest
) write is necessary to ensure stability and prosperity for all countries in the region—we need to get our home act in order. "The American economy is limping along. Congress hasn't passed a budget in six years. It regularly brings the nation to debt default. It won't increase funds for physical and intellectual infrastructure, where America is clearly falling behind. If China or anyone else, for that matter, is going to pay attention to America's wishes and demands, Congress will have to stop acting like a Banana Republic."