Calling all citizens of the web, political junkies, and followers of Via Meadia! We cordially invite you to participate in a research study on the relationship between internet activity and political participation. Does what you read online influence how you vote or which organizations you join?
The survey is part of the thesis of Juan Sánchez, a PhD student in Marketing at the University of Valencia (Spain). Mr. Sanchez's research has no commercial purpose whatsoever and all information will remain anonymous. There are no right or wrong answers; he is only interested in your freely expressed opinions.To take the survey, click here: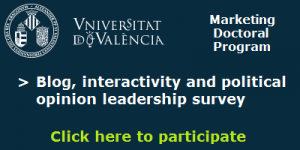 Thank you very much.