Late last year, Mexico passed historic reforms to its state-owned and very stagnant oil sector, run by the increasingly ineffective Pemex. Pemex has been running a red queen's race of late, moving faster and faster to try and stay in place. The company added more than 22,000 employees over the last decade, yet saw production fall by a staggering 23 percent. Outside experts think the reforms, championed by President Enrique Peña Nieto, are necessary for Mexico's plans to take advantage of hydrocarbons trapped in shale formations and offshore reserves.
The changes have yet to take effect, but there's no time like the present: According to the US Energy Information Administration (EIA), preliminary estimates for last month's oil production were abysmal, even for Mexico, breaking a 19-year-old record for the lowest monthly average output.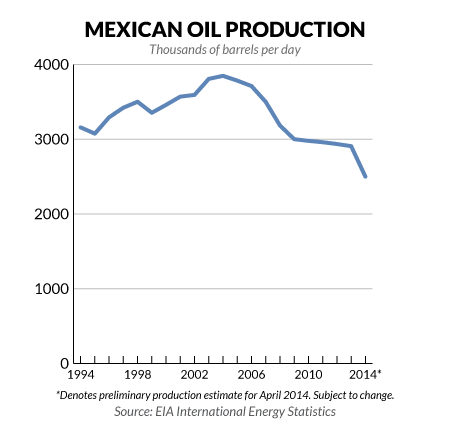 Pemex has long coasted on production from conventional and shallow water reserves. While the U.S. has exploited more difficult-to-access oil to great effect, Mexico's state-owned monolith has been slow to adapt. The country's new oil reforms will open up its oil and gas reserves to foreign firms, and should be enough to turn around this decline. But as the EIA
reports
, there's still work to be done:
Before the reforms can take effect, Mexico's legislature must finalize the secondary laws detailing the fiscal regime, including the contract terms for the exploration and production models and local content requirements. It is expected that Mexico will finalize the secondary legislation by early August.
The sooner Mexico can join the North American energy revolution, the better. You only need glance at the graph above to understand why.