The Obama Administration has been announcing all weekend that a new round of sanctions and travel bans on prominent Russians was to be announced today unless Russia took a firmer role in taming Ukrainian separatists in the east of the country. With no evidence of Russian cooperation to be found, the sanctions are due to be announced later today.
Though the EU is expected to follow suit with its own set of limited sanctions later in the week, reading a bit deeper into most of the coverage this morning reveals that a sizable divide still remains between Washington and many European capitals about how far the sanctions should go. The 
FT
:
In Brussels, ambassadors responsible for security affairs are due to meet on Monday and are expected to add the names of 15 Russian individuals to the lists of people facing travel bans and asset freezes. EU diplomats stress, however, that it is difficult to forge a consensus among all the member states to move to broader economic sanctions against Moscow.

Philipp Missfelder, foreign policy spokesman of Chancellor Angela Merkel's CDU party, on Monday put the blame for the escalating Ukraine crisis squarely on Russia and called for new sanctions.Mr Missfelder made clear he was talking about tougher stage two sanctions, the financial measures imposed on senior individuals, and not broader economic sanctions.
Have a look (again) at the analysis OpenEurope did of European hawkishness on Russia from two weeks ago. This is the reality that the Obama Administration faces as it tries to show teeth to Vladimir Putin's regime: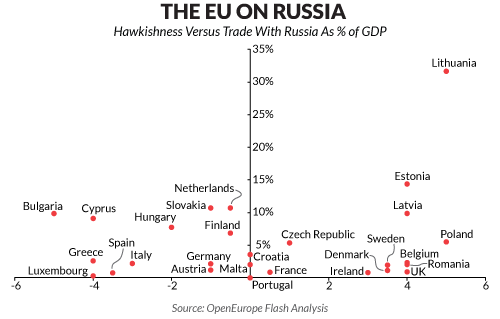 And Russia is still playing hardball with the Europeans. Alexander Medvedev, the deputy chairman of Gazprom, was in London late last week with a brazenly extortionary message for the EU's leaders:
Mr Medvedev said Ukraine now owes $18.5bn, a claim disputed as "economic warfare" by Kiev. In what amounted to an ultimatum, he said the country would face a total cut-off shortly after May 7 unless it pays $3.5bn in arrears. Thereafter it will have to pay cash in advance for any deliveries.

If this disrupts the flow of gas to the EU through the Ukrainian system—half of Gazprom's exports to Europe—the entire responsibility will lie "on the shoulders of Ukraine". If Europe wishes to secure its supplies, it might wish to dig into its pocket and settle Ukraine's debt, he suggested.
Perhaps the Russians will miscalculate and push the Europeans too far. Maybe EU leaders will finally grasp what kind of people they're dealing with, and come to terms with the kind of thuggish worldview that motivates much of Russia's moneyed elite.
But we're not holding our breath.