How big are Putin's plans for Ukraine? Maybe this big:
A photo that was recently leaked on the Twitter feed of the Euromaidan's PR wing revealed a third possible scenario. The photo, allegedly a fax found in the central office of Ukraine's Communist Party, shows Ukraine's east and south divided into four autonomous republics: Donetsk Republic in the east, Crimea Republic, New Russia Republic in the south (Odessa, Mykolayiv, Kherson, and the western half of Dnipropetrovsk), and Dnipropetrovsk-Slobdzhansk Republic in north-central Ukraine (Kharkiv, Poltava, Chernihiv, Sumy, and the eastern parts of Dnipropetrovsk, Cherkasy, and Kiev districts). There have been rumors of similar maps circulating in the Kremlin. There is no way to authenticate the whispers, but it is likely that such documents do exist.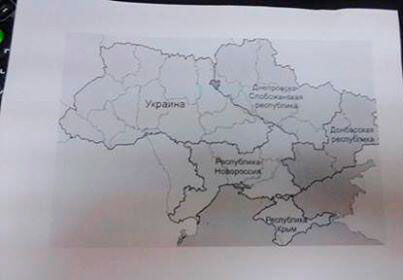 This may well be what Moscow has in mind when it calls for the federalization of Ukraine. New Russia, or Novorossiya, is the same term Putin used during his Q&A session late last week. And prior to Putin's not-so-innocent use of the term, Christian Caryl noted that activists in Odessa were using it as well:
Kvasnyuk stressed that his movement isn't ready to give up on the idea of Ukraine altogether. "Right now we hope that we can solve our problems ourselves, without help from Moscow," he told me. But what if the government in Kiev doesn't offer quite as much autonomy as the pro-Russians want? "If we don't get federalization," Kvasnyuk told me, "then there won't be any way to preserve the integrity of Ukraine." So, in effect, secession. But what about after that? Would Kvasnyuk want to join Russia?

It was here that our conversation took a rather unexpected turn. No, he explained. It would make more sense for the other Russia-oriented parts of Ukraine to join together to form a new country of their own—a country he referred to as "Novorossiya." His eyes sparkled. "A population of 20 million, with industry, resources." With advantages like that, who needs to become a part of Russia? "By European standards that's already a good-sized country."
Taken together with recent evidence—provided by Ukrainian authorities and endorsed by the Obama Administration—that Russian special forces are intimately involved in the uprisings in Donetsk, Russia's irredentist fantasies in Odessa suddenly don't look all that fanciful.