There's an old quip about government money attributed to Senator Everett Dirksen that goes, "A billion here, a billion there, pretty soon you're talking real money." We think it's safe to say that $1 trillion is real money. So it's a bad sign that public pension plans hit a record funding gap of over $1 trillion in 2012, according to a report by the Pew Center on the States.
Plan liabilities have been growing at a steady clip over the past decade, while assets have failed to keep up, having been hit hard by poor investment performance as well as decisions by cities and states to increase benefits while delaying necessary contributions.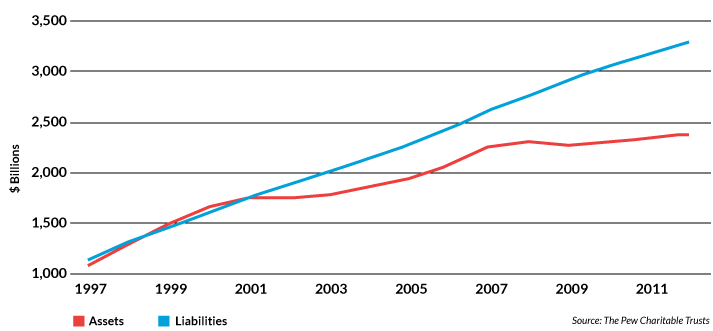 Some of this is obviously due to the poor performance of investments during the recession, but the recession can't be blamed for all of this, as the gap began well before then. As the chart above suggests, pension plans' liabilities and assets were roughly equal in the late 1990s, before diverging just after the year 2000. The gap has been growing ever since. This isn't just a matter of unlucky investments; state politicians who repeatedly underfunded these plans and raised benefits without paying for it deserve much of the blame.There is some good news for pension funds. Markets have been performing extremely well over the past few years, and because pension plans smooth out sharp changes over a five-year period, the 2012 data still include numbers from the height of the recession. The good numbers from recent years will soon catch up with the reporting, making things look a little better for many states.Even so, a funding gap of $1 trillion is truly massive, and it will take far more than a few years of good investment returns to close it. States will need to increase their contributions or cut benefits. And as Pew warns, not enough states are doing that. This problem is not going away.