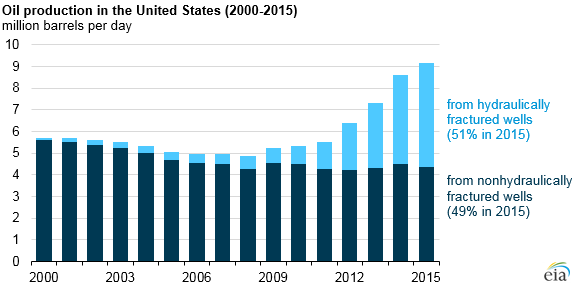 Fracking is now producing the majority of U.S. crude, according to the Energy Information Administration (EIA). Hydraulic fracturing has been in use since the 1950, but only recently has its use in the United States really taken off, as its pairing with horizontal well drilling has given producers new access to vast reserves of oil and gas trapped in shale formations. The shale boom has helped American oil production to grown by more than 4 million barrels per day over the past eight years, and now it appears fracking is responsible for most of our output. The EIA
reports
:
[Hydraulic fracturing], often used in combination with horizontal drilling, has allowed the United States to increase its oil production faster than at any time in its history. Based on the most recent available data from states, EIA estimates that oil production from hydraulically fractured wells now makes up about half of total U.S. crude oil production. […]

Using well completion and production data from DrillingInfo and IHS Global Insight, EIA created a profile of oil production in the United States. In 2000, approximately 23,000 hydraulically fractured wells produced 102,000 barrels per day (b/d) of oil in the United States, making up less than 2% of the national total. By 2015, the number of hydraulically fractured wells grew to an estimated 300,000, and production from those wells had grown to more than 4.3 million b/d, making up about 50% of the total oil output of the United States. These results may vary from other sources because of the types of wells included in the analysis and update schedules of source databases.
Much has been made in recent months of the pressure U.S. shale producers now find themselves in with oil trading under $40 per barrel, and of the challenges that await the industry as it struggles to compete with other producers around the world for a share of the oversupplied market.
And sure, output has tapered off since last summer, but notably it hasn't plummeted in the way that many analysts expected, largely because producers are
experimenting
with new ways to keep the shale renaissance alive. That's very good news, because as the EIA's latest data shows, shale innovation has never been more important for American energy security.