Since I last put fingers to keyboard (the contemporary version of "pen to paper") on the Iran deal and debate on July 16, rather a lot has happened—not just as regards the deal but elsewhere in the region, as well. My TAI colleague Walter Russell Mead has captured some of the gist in a frog-and-prince metaphor that seems to make the whole business feel a bit like a fractured fairy tale. And he's right to suggest that there is something, at the least, surreal about what's been going on. Let me elaborate a bit before turning to rather more serious and sobering matters.
As the Meadian Oracle noted, the Supreme Leader did not respond to the Iran deal, at least in his public comments, in a way that Secretary of State Kerry appreciated. After weathervaning for a moment or two about whether Khamenei was merely waxing tactical or was sincere, Kerry said: "If it is the policy, it's very disturbing, it's very troubling." He sounded wounded and, worse, surprised. This remark therefore ranks right up there with Kerry's September 2013 assurance that an attack on Syria would anyway be "unbelievably small", and locks in his status, as I've put it before, as the stupidest Secretary of State in my lifetime.If ever a public reaction were predictable, Khamenei's was. He knew certainly Ali Jabari's reaction to the deal before Jabari, the head of the IRGC, even opened his mouth. Just as predictable will be the harsh crackdown on all forms of dissent in Iran if the deal is ever voted through and actually reaches its implementation date. I now have no doubt that manifestations of this crackdown will surprise our Secretary of State, too. I can understand why my 22-month old granddaughter is surprised every time Jack pops out of his box, no matter how many times he does it within a ten-minute period. But John Kerry is not 22 months old, so what's his deal?Which leads me to wonder just how far Kerry's chin dropped toward his knees when he read (assuming he could bear it) the Entous and Bendavid piece in yesterday's
Wall Street Journal
about how the Syrians lied and
cheated on the chemical weapons agreement
. He didn't need to read the article, of course; he could have just read the recent classified intel about this. Maybe he did, maybe he didn't. It's for sure he never read my repeated warnings about how he and the Administration got fleeced on that business, to borrow Senator Corker's verb from the other day when talking about the Iran deal.Speaking of Senator Corker, the hearings have already brought out some interesting points. Several witnesses have locked onto something I called attention to
on July 16
, namely, the minimally 24-day waiting period before IAEA inspectors can get in to check a potential violation. That has included prominently Olli Heinonen, a former IAEA deputy director, who has pointed out that, "A 24-day adjudicated timeline reduces detection probabilities exactly where the system is weakest: detecting undeclared facilities and materials." Undeclared materials? This sounds almost Syrian,
doesn't it
?Others have
tried to show
that the Iranians are likely to be able to stall the IAEA for much longer than 24 days, perhaps up to three months. I suspect next we will hear from someone who suspects not three months but four or five months. This reminds me of the part of the
Hagadah
—a rather lengthy part that every year keeps me that many more verses away from my dinner—where the rabbis are sitting around in Bnei Brak competing with one another over who can show how many plagues the Holy One, Blessed be He, brought upon the Egyptians at the Red Sea. Surreal, see what I mean? If a 24 days' delay constitutes a fatal flaw—and it does—than what does it matter if it's 48 days or 126 days?If one has a taste for humor, the verification argument just now can be downright hilarious. The Iranians are claiming that they and only they will be in charge of supplying soil samples to the IAEA from inside Iranian facilities. This is a little like a suspect in a police lineup asserting the right to declare that he's not the guy. Where is Lewis Carroll when we need him? (I wonder if this surprises Secretary Kerry, too.)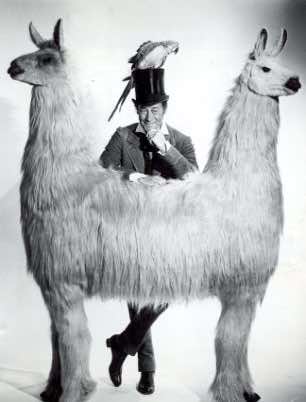 I think I have a pretty good idea what's going on in my hometown these days, and I suppose it helps in this regard that Washington is the only city in the world where sound travels faster than light. But I confess to being a lot less sure about what's going on in Tehran. Yes, it was no surprise to hear the Supreme Leader spew the usual red-meat juice for purposes of calming the animal spirits (apologies to Mr. Keynes) of the IRGC. And yes, it was no surprise that the Supreme Leader at the very same time, and in the very same speech, tried to have the back of his president and his negotiators. Here it's not anything Lewis Carroll created but the Push Me-Pull You beast with whom Rex Harrison cavorted in "Talk to the Animals" that comes to mind.Does Khamenei want the Iranian parliament to vote "yes", in which case red-meat juice may not suffice to keep Mr. Jabari at bay? Or does he want it to vote "no", on which case no sanctions relief and no $150 billion? At least from what he has said in public, it's not obvious what he wants, except to let the factions go at each other and behold who comes out on top.And with this I admit that now it's my turn to be surprised. Let me explain.For quite a while before July 14 it seemed to me that the Supreme Leader could not afford to loose the demons he has now invited into play, and so would walk away from the table unless the P5+1 position caved pretty much entirely—and it didn't cave entirely, merely sagged rather badly. I have already admitted to having predicted poorly, except that now I wonder if maybe I'll turn out to be right after all—except that
the Iranian "walk" could come after the signing but before the implementation
. That remains to be seen, of course, but the way things are spinning in Tehran right now, it's not that far-fetched a possibility.But why might Khamenei do something like that? We can only speculate. Perhaps he wants to mobilize the regime's Praetorian guard by frightening it, and at the same time rid himself of some civilian politicians who have outlasted their usefulness, and have even begun to cause trouble by stoking rather too avidly rising expectations among the Iranian masses. Perhaps he wants to spin up the United States in order to embarrass it. Perhaps he wants to squeeze all the juice he can out of the wormwood of U.S.-Israeli and U.S.-Sunni Arab alienation. Perhaps he also wants to buy some time for a beleaguered Assad regime, to which the Iranians recently gave another $1 billion. Trying to know such things forces one into an epistemological cul-de-sac; I'm not Rex Harrison, so I don't know how to talk to the Persian Push Me-Pull You. But a little well-grounded speculation is arguably better than nothing. At least it shows that Khamenei
might
actually know what he's doing.The other possibility, as I (and others) have pointed out at the hearings and elsewhere, is that Iran may "walk" not before implementation but after, yet still well before ten or fifteen years have passed. The Iranians can walk out of their obligations at any time, as can the United States—note paragraph 36. And the Iranians can make up any cockamamie reason they want to justify it, after they've copped their $150 billion, after the sanctions regime is a shambles and, like Humpty Dumpty, cannot be put back together again, or after they've accumulated enough useful cheating to supercharge their path to a breakout in parallel to the end of the arms embargo at year five of the deal. They have lots of options, plenty of potential exit ramps along the way, which is why—as I argued before—
we are the ones
whom the verification procedures deter, not them. This is because despite having ritually stated over and move that "all options are on the table", the President's body language makes clear that it's his diplomacy-or-war dichotomy that really seizes him of the matter. Now, maybe this situation doesn't quality as surreal, and it's definitely no fairy tale—but it certainly is a passing strange way to negotiate limits on a dangerous actor.
I
promised something more serious at the outset, and it's now time to stand and deliver—and in so doing also justify my title.Just because we denizens of the postmodern West think someone in some other time or clime is mad does not mean he is innocuous. So Hitler was mad, they say—self-driven by a combination of obsessive Jew-hatred and a particularly virile form of paranoid idealism. But putting a stop to his madness took years and vast amounts of blood and treasure. Was Stalin mad, too? Mao? Pol Pot? The tag team duo of Tojo and Hirohito? If you are the cause of the death of millions of innocents among your own people are you by definition mad, or merely evil? Mustn't forget the ladies—say, Elisabeth Bathory and Lucretia Borgia? Were they all more modern versions of a fiddling Nero or a paranoid Caligula? What about the most recent set of North Korean Kims or even Vladimir Putin? Apprentice madmen, perhaps, not yet graduated into full lunacy?When Western, supposedly secular, ears hear what comes out of the mouths of Caliph al-Baghdadi, Ayman al-Zawahiri, Ayatollah Khamenei, Sheik Hassan Nasrallah, and kindred others, a certain nervous ambivalence clouds the air. Such people clearly do not share the normative dome that contains our sense of right and wrong, but it's too easy—and not especially useful—simply to assume them insane. So what are they, then?Our culture's favorite stigmata
d'jour
is simply to label them "terrorists." In our secularized Manichean moral lexicon that's equivalent to the old term "sinners." Sinners used to be considered dangerous because they were allied with the Devil. That's still the case, but there is something about our rationalist conceits that make it hard for us to take madmen seriously as adversaries if they happen to be non-Western and hail from societies that are, by Weberian social-science standards, pre-modern. This is a huge mistake. If that mistake can be summed up in one sentence it is this: We technological sophisticates radically underestimate both the fragility of our own societies and the strength of tribal societies—especially when the theater of conflict, however ill-defined it may be, is more in their back yards than it is in ours.Caliph al-Baghdadi knows his praxis if a recent
New York Times
synopsis
of his
modus operandi
can be believed—and it can because it mimics almost exactly aspects of an essay, "
Go Local
", from the current issue of
TAI
, by Howard Gambrill Clark. Ayman al-Zawahiri and Sheik Nasrallah are, unfortunately, both still using up oxygen after all these years, which may be all we need to know about their tactical skills. And as I have already suggested, the Supreme Leader may in fact know what he is doing, and at the same time effectively keep most observers guessing as to what it is. Now that's skill.A bit more than a year ago I thought it prudent to keep U.S. powder dry to see if the very ungainly and poorly institutionalized coalition juggernaut that was ISIS could hold together long enough to become really dangerous. I don't regret my judgment then, but now the trial period is over and the verdict is in: Damned right it's dangerous, and I'm afraid that a feckless half-measures U.S. policy has helped it become more so. We ratified the ISIS narrative—"the West is at war against Islam"—without hurting the organization nearly as much as we might have.The current Turkish government is now regretting its succoring of ISIS, then presumed weak, as a tool against the Assad regime. Because of those regrets, spiced by mounting anxieties about the Kurds, it's now finally willing to let the United States use one of its air bases. I doubt that will make much difference in U.S. behavior. Turkish regret resembles in some respects the regret of the Saudi regime (some of it, anyway) for having distorted the world of Sunni Islam with its cash-fueled proselytization of Wahhabism—the infant pabulum of the current mature salafi brew—over the past forty years. Were selected Turkish and Saudi leaders mad to do what they did? No, just unskilled looking at matters from beyond the short term.The point? Governments often make mistakes. They often act upon the pressures of short-term expediencies that cause longer-term trouble for themselves and others. In other words, those who are mad may be highly skilled, even farsightedly so, and those who are not mad may not be highly skilled, even in the short term. If this observation doesn't count as serious, I don't know what does.
N
ow what does this mean? It means, as the Great and Powerful Mead hath said—and also Mick Jagger—that you can't always get what you want. We can't count on an arms control deal to make a partner out of Iran, and anyway we cannot be partners with Iran, friends with the Sunni Arabs, and passive about Syria all at the same time. We can't count on Iran and company to solve our ISIS problem for us, because they are to ISIS what fuel is to a fire. We can't count on Turkey to solve any of our problems unless they coincide with Turkish interests, and they pretty much don't (unless the Turks are willing to occupy and stabilize virtually all of Syria….not bloody likely), especially as things stand with regard to the Kurds. We certainly cannot count on any dimension of current U.S. policy, including the part pertaining to Iraq, to make regional instability less expansive and hence war less likely.Rather the opposite, I'm afraid. The President seems to have wanted all along, so the current line goes, to get the United States out of the regional security competition suppression business of Cold War vintage, believing that it was unnecessary, expensive, and more dangerous than letting various and sundry regions find their own new equipoise. To the extent that is true, we may now bear witness to what cashing out of that business is really liable to cost us. We now have a Middle Eastern regional security competition the likes of which no one imagined a mere quarter of a century ago. The accident-prone hyperactivism of the Bush Administration followed closely by the mischief-spawning passivity of the Obama Administration has played no small role in this tragedy, not that the locals are themselves innocents at home.Moreover, the "discussion" here over whether Shi'a sectarian fanaticism is more dangerous than Sunni sectarian fanaticism is a mug's game, and the notion that we can skillfully lead (from behind, no less) the two camps to destroy each other to our benefit is as strategically incoherent as it is morally obtuse. It is hard to see how another generation or two of vicious destructive warfare in the Middle East, complete with breakneck competitive WMD proliferation-in-the-round, can really be in the interest of U.S. national security.We can analyze all we want, and get nowhere practical. We had better start synthesizing instead, seeing the noxious parts as fractions of one very big, highly interactive—and oh yes, serious—problem. And how can we manage this serious problem? For now, just worry. I'll tell you the answer next time.