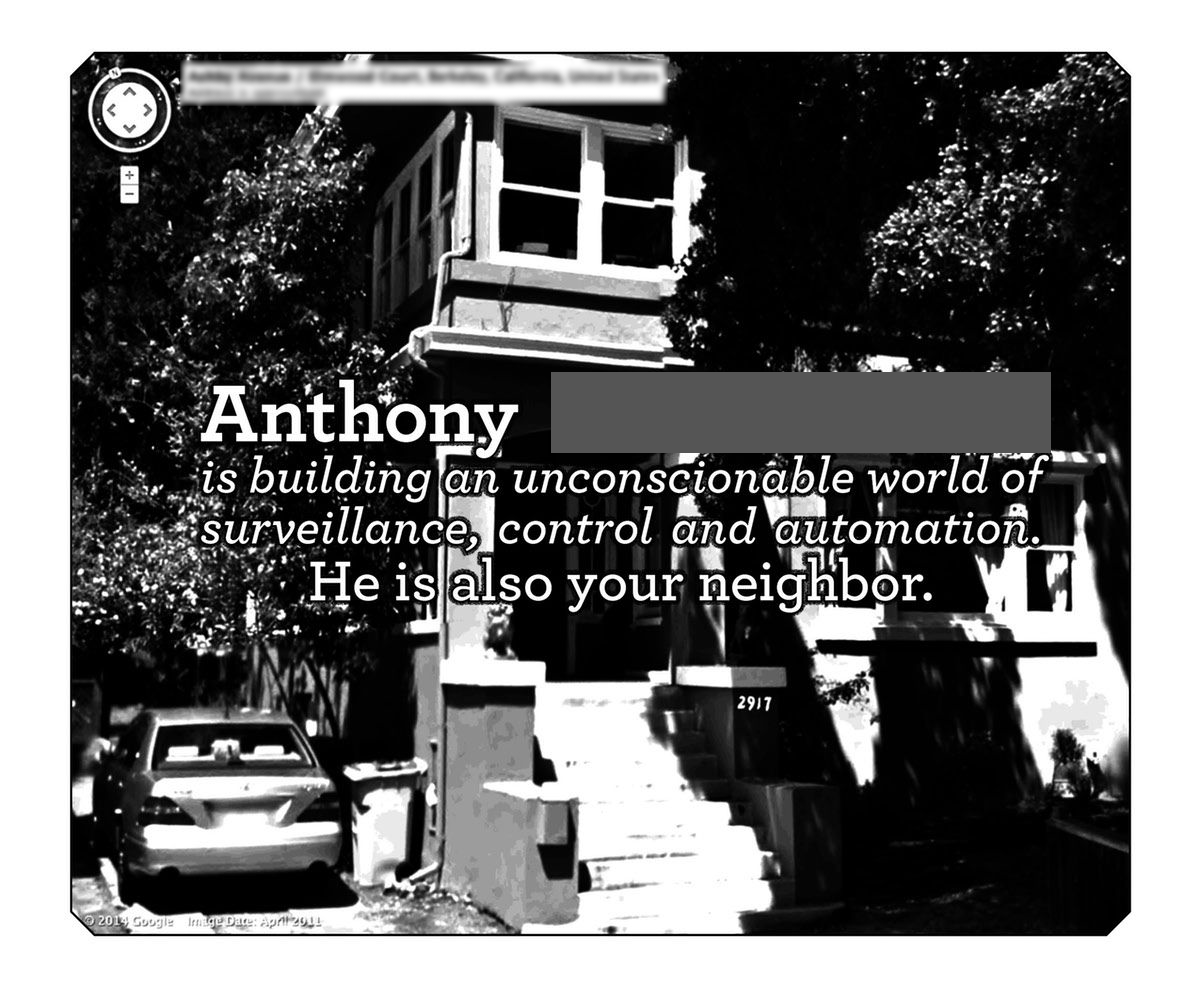 Late last year the 
Economist
's Adrian Wooldridge
predicted
2014 would bring a "peasants' revolt against the sovereigns of cyberspace," and not even a month in we're already seeing forceful expressions of this backlash on Big Tech. At 7am last Tuesday morning, a group of angry protestors marched to the Berkeley home of a Google X developer, unfurled a banner reading "Google's Future Stops Here" and handed out flyers featuring the above image and a message to "Fight Evil…Join the Revolution." The group stood in his driveway for 45 minutes before moving on to block a nearby Google shuttle bus pickup site.What did Anthony do to draw such ire? The protestors, who
call themselves
Counterforce, seemed to be using the engineer as a stand-in for a variety of "evils" committed by Google, ranging from its work with Foxconn to its recent acquisition of military contractor Boston Dynamics. But just as Anthony is a stand-in for Google, so too is Google a stand-in for the root of all evil in this group's mind: capitalism. From their
flyer
:
As long as capitalism functions, everything it is connected to will be poisoned with its sickness. People like [Anthony] are gentrifying neighborhoods, flooding the market with noxious commodities, and creating the infrastructure for an unimaginable totalitarianism. This is the evil that we stake our lives against.
At the face of it, these seem like the actions of the lunatic fringe, but Tuesday's melodrama underscores wider-felt discontent with the Bay Area's tech workers, and with the tech behemoths they work for. A whole generation of idealists is slowly and painfully coming to terms with the fact that Big Tech is Big Business. It's being played out in a fight over Google busing employees out to its campus—a service many complain is enabling the gentrification of San Francisco.
Remote work could 
help defuse
 this busing conflict and broker a peace in Silicon Valley's burgeoning class warfare. Is there anything telework can't do?