Brussels unveiled a new set of climate goals today, and the targets set out sketch a portrait of a continent wary of the costs of green policymaking. The EU has been working towards 2020 goals since 2007: a 20 percent reduction of collective emissions compared to 1990 levels and a 20 percent increase in renewable energy use (both of which were binding for member states), and a non-binding 20 percent increase in energy efficiencies.
The new goals outlined today are for 2030, and will require a 40 percent reduction of emissions from 1990 levels for EU members. That doubling is certainly a significant commitment, but conspicuously absent from this set of targets—which will effectively replace its 2020 counterpart—are any mandatory renewable energy requirements for national governments. Instead, the European Commission is giving governments the freedom to choose the means by which they achieve the required end (a 40 percent reduction of emissions).That's progress. Here's why: Renewables aren't always the best way to reduce emissions. Frequently they're not, as Europe is actively proving. Emissions in the United States are dropping faster than they are in Europe thanks to shale gas, not solar or wind: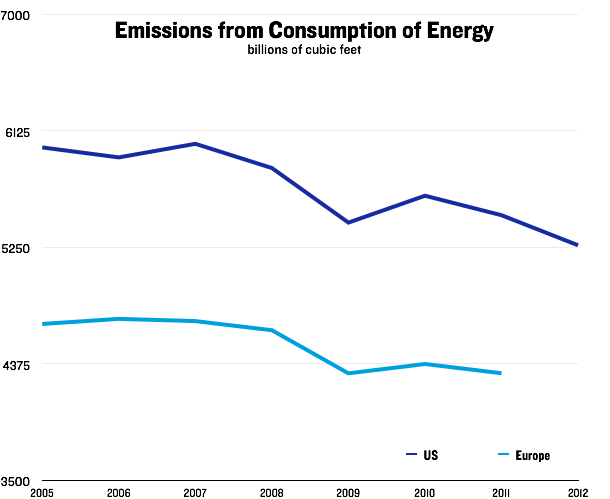 The UK was one of the big agitators for dropping the renewables mandate. Britain can reduce its emissions with nuclear energy and shale gas. Why prioritize expensive wind and solar energy? Of course, this retreat from renewables has riled up environmentalists. Greenpeace EU's managing director Mahi Sideridou
called
the new plan "a sellout that would knock the wind out of a booming renewables industry." That may be true, but remember: Renewables are only "booming" in Europe because they're being propped up by government subsidies and feed-in tariffs. That support comes with a considerable price tag, which is ultimately being paid for by European consumers in the form of
higher electricity prices
.The EU's climate commissioner Guenther Oettinger
put it bluntly
: "The aid systems for renewable energy have not always been cost-efficient. In some places we have promoted renewable energy, but it has cost too much." These new 2030 targets represent the first move towards what may become a larger price correction for a suddenly green-shy Brussels.