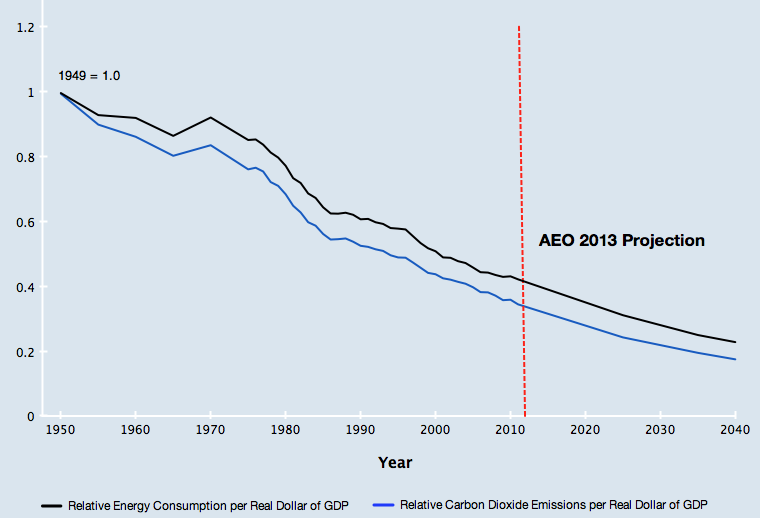 The
decoupling
of economic growth from energy consumption—the ability to produce more units of GDP from each unit of energy consumed—is one of the most important trends going for the environment. As BP
writes
 in its annual Energy Outlook (
h/t the 
FT
), the world is figuring out how to grow green:
Global energy intensity is improving rapidly, converging across countries at lower and lower levels. We project it to decline by a further 36% by 2035 (-1.9% p.a.), with differences across countries the smallest since the Industrial Revolution. Decline and convergence are both the outcome of market forces and global competition, promoting the most efficient use of energy everywhere. […]

The widening gap between GDP and energy consumption illustrates the impact of falling energy intensity; and the gap between energy and CO2 emissions reflects changes in carbon intensity, brought about by changes in the fuel mix.
Decoupling is a polarizing issue in the green world. Many see it as a convenient myth economists tell themselves to justify continued economic growth without consideration for the environment. These environmentalists would rather see structural reforms, or some subversion of the capitalist paradigm that encourages unceasing growth. For them, sustainable development is a false promise, a distraction from the kind of ascetic retrenchment our planet so desperately needs.
It's true that development has historically carried with it costs for the environment, but things seem to be changing. The developed world is
leading the way
in growing sustainably, a result of both technological progress and its transition to a less materially-intensive information economy. But as BP reports, on aggregate the global economy is becoming less energy intensive as well, as the imperative to stay globally competitive is forcing economies everywhere to raise efficiencies. Encouraging this decoupling should be the focus of the modern green movement, not anathema to it.